AUSTIN, Texas—April 7, 2014—Inspect & Cloud® announced the scheduled release of their first-ever Android version to hit the Google Play store in mid-April '14. The decision to enter the market came after a significant number of property managers expressed their interest in using I&C if there was an equal Android counterpart.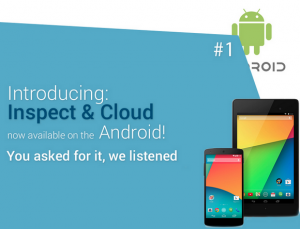 The biggest difference in the Inspect & Cloud® Android version will be that users will be able to conduct inspections without needing a stable Wi-Fi connection, or a data plan with their cellphone carrier. It will offer offline-capabilities, where inspectors will be able to be in-field and conduct property inspections without Wi-Fi connection, thus, allowing customers to use the I&C product in any location. Note: I&C developers are in the final stages of modifying the Apple iOS app to make it fully functional with offline capabilities as well.
This version will have the same features as its Apple iOS version, such as creating customizable templates and instant push notifications. Paired with a full-out I&C web application, Inspect & Cloud's VP of Sales & Operations, Odessa Fernandez, says, "we are trying to integrate both mobile systems and web application seamlessly and effortlessly to create an efficient and pleasant inspection experience".
Pricing & Availability
Inspect & Cloud pricing packages range anywhere from $49 a month (unlimited inspections on unlimited devices), all the way up to $199+ (depending on how many properties a company manages, or how many users they will have).
Inspect & Cloud aims to be the best in digitizing the property inspection industry. Their award-winning customizable templates have paved the way to allow more innovative and creative ideas to come to fruition.